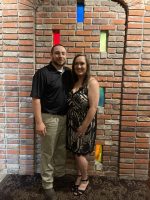 Minister of Youth and Worship
662-214-2366
Bryan & Paige joined Beach Springs Baptist Church in May of 2022. They married in July of 2010. They have 3 amazing children Bentley, Callie, and Mollie.
Bryan- Was born in Union City, Tn in May of 1989. He was placed in foster care shortly after. He was adopted in 1994 by Ronnie & Reta Sutton. Bryan is a graduate of Middleton High School class of 2007 in Tenn. He is employed at Toyota and has been there since 2011. His hobbies include spending time with his family, hunting,and fishing.
Paige- Was born in Tupelo, MS in Sept of 1988. She is a graduate of Saltillo High School class of 2007. She is also a graduate of I.C.C class of 2009. Her hobbies include family time, swimming, and taking trips.
This couple loves to teach our young people the word of God and how to apply it to everyday life. They are very big on building a FAMILY culture at Beech Springs Baptist